This piece features major spoilers for this week's Punisher #1. You can read our review here.
Let's get right down to it: Marvel has a Punisher problem.
Hard as it is to believe, yes, the above guy is absolutely a problem. And I'll get to that. But he's only indirectly the Punisher problem Marvel has to cope with. No, the bigger issue is this:
The above contortion of the Punisher's traditional skull logo, adopted by hard-right, would-be vigilante types as a matter of representing their so-called "back the blue" movement, which sprung up reciprocally as a backlash against Black Lives Matter. The idea that Black Americans, demanding they be treated equally under the law and by the police who are supposed to represent it (and them), was so appalling to their preconceived natural order of "the way things ought to be" that they assigned the logo of a mass-murder such as the Punisher to the police as a backward attempt at showing solidarity.
The tendency of law-and-order types on the Right to place certain elements of our society – police, soldiers, other first responders – on a pedestal above the rest of has always been disturbing; looking the other way at matters of police brutality – even outright murder – has simply become par for the course. "The police are the thin blue line between us and chaos." "If only he'd done as he'd been told, they wouldn't have had to hurt him." "Only warrior cops understand how to deal with 'them.'" These are the words we hear so often uttered as de rigueur whitewashing of the crimes of a class of law enforcement who believes the law doesn't apply to them, and thus, they are above it. Their protectionary and entrenched unions, a supine legislative branch aggressively opposed to even the faintest whiff of reform, and a hopelessly Orwellian right-wing media ecosphere – not to mention countless "cop on the edge" tropes over the past five decades – all work together to convince these people that, in fact, anything a cop does is acceptable by virtue of them being a cop. It's a pretzel logic that requires little in the way of actual reasoning or sensibility and instead requires its adherents to functionally stop thinking further than, "Cops good, everyone else, suspicious."
And so, we arrive at the conflation of the Punisher as, despite all evidence to the contrary, a symbol of law and order. Over his nearly five-decade existence, the Punisher has, in no particular order:
Dropped a low-grade nuke on an island of villains, killing no less than 2000;
Shot up a Mafia wedding, including a centenarian;
He had the nerve to shoot somebody in the face right in front of Captain America;
He killed his former ally Micro for "joining the enemy";
He started his career trying to murder Spider-Man;
And The Punisher has essentially killed more people than smallpox.
That's not to say that none of these people weren't incredibly, indescribably evil. But the Punisher's brand of "justice" is diametrically opposed to actual law and order, democracy, the United States Constitution (which, again, the Right pretends to enshrine as long as it's a 2nd Amendment concern), and the supposed function of the police – "to serve and protect." There is absolutely, utterly neither of those things is what the Punisher does.
He is no hero. He is not "cool."
He is a villain.
He is a murderer, plain and simple. And a mass murderer at that. Easily the most accomplished in the entire Marvel Universe. For so many to grossly misunderstand that fact is, on the one hand, a stark statement on the lengths some people will go to in order to distort reality to their beliefs. Still, on another, it's a testament to how badly Marvel has misrepresented what Frank Castle actually is for so, so many years.
From his initial foray into the world of comics in 1974's Amazing Spider-Man #129, the Punisher was different: he killed.
And although he was most certainly portrayed as the antagonist in Gerry Conway and Gil Kane's tale, it didn't take long for his next appearances to flesh out his origins a bit more to turn him into an anti-hero: veteran, dead family, war on crime. Chiefly inspired by right-wing counter-counterculture films like Dirty Harry and Death Wish, the Punisher rode into town at Marvel right at a moment when conservatives were attempting to paint the "loony left" and the hippies' free love in the worst possible light; gibbering, anti-establishment threats to your family who hopped up on goofballs, would just as easily shove a baby into a microwave as they would "cop-out" and "trip some acid." If the longhairs and their "rock music" were one extreme of the growing public rifts in society that exploded out of the '60s, the '70s conservative backlash against them was the diametrically opposed extreme: It wasn't enough to just have police or to be an upstanding citizen. According to the lore, a "Man" had to be willing to mete out Old West-style justice to these urban menaces at the drop of a hat so that society might stay sane. 
That narrative, of course, is pure drivel. But it was powerful and resonated amid a generation of men haunted by Vietnam and a country torn in two because of the same. And in that milieu, the Punisher thrived – and then proceeded to go absolutely gonzo in the '80s.
The '80s were the time of the Schwarzenegger-ian action hero: not so much a man but an unstoppable, unflappable force of nature. It was in this decade and into the early '90s that the Punisher's popularity swelled to unfathomable proportions. It was a perfect confluence of a character being at the right place at the right time to achieve maximum popularity by capturing the zeitgeist by the throat and squeezing. At one point, he was propping up four monthly titles and routinely appearing as a guest-star in at least as many comics of the era as was fellow '70s tough-guy holdover Wolverine. And that's where Marvel's Punisher problem really began to take root.
It was one thing to have an urban vigilante running around murdering people, as long as the people writing him are responsible enough to say, "Hey, this guy is not cool. He's absolutely the bad guy here," and have the heroes respond appropriately. And for a while, that was the way the Punisher was handled. But by 1986, he was popular enough to venture into his first solo comic – and the rest became history. Now responsible for holding down one, two, three, upwards of four monthly titles, Marvel abandoned all pretenses of depicting Frank Castle as any sort of villain but instead leaned into the action tropes of the era and let him run absolutely buck wild. And with that level of money at play, Marvel wasn't about to reverse course. Instead, Spider-Man, Daredevil, even Captain America all wound up looking the other way at all of Frank Castle's atrocities just this once, as long as they were working toward a mutual goal. From a marketing perspective, it made perfect sense: how on Earth would Marvel move as many Punisher units as they were if they were running around moralizing and finger-wagging about all of his killing? (I mean, they did, but it was always more by-the-numbers than anything else.) But as ever, the soul of capitalism was one of rot, and so, the various heroes of the Marvel Universe sullied their own legacies by continuing to allow the Punisher to run amok, killing at will. Even after the character's star power receded, nobody really ever came along on the editorial side and said, "Maybe we need to address this elephant in the room."
By not speaking up about how wrong his actions are, Marvel – and its heroes – have, for decades now, essentially been silently in consent. This silent consent isn't necessarily something that might have ever come up for debate (although there have been a handful of half-hearted attempts to make the Punisher over into something different over the years, though none of them ever last very long) – just kind of "one of those things" fans grudgingly acknowledge but don't actually do anything about. But, in the wake of the far Right's adoption of the Punisher's logo as some kind of cracked symbol for "law and order," it's a blunt problem too big to ignore.
And to… well, someone at Marvel's credit for greenlighting it, writer Matthew Rosenberg famously did try to address the matter during his stint on the book. Have a look at this famous scene from 2019's Punisher #13: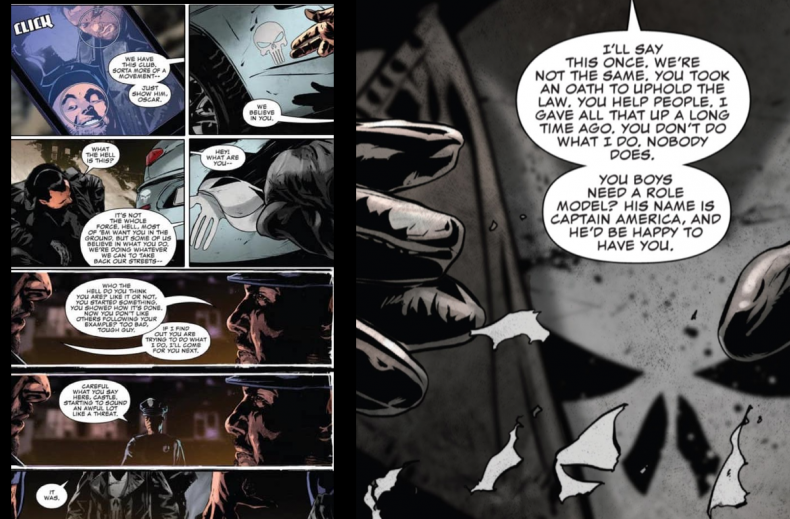 The comic would only last three more issues before being rushed to cancellation.
Marvel, it seemed, was not in the business of confronting society's ills that directly – even when the point being made was completely valid. IPs must be continuously stoked, and the character's Netflix show was doing big business at the time. Since then in print, though, Punisher has been relatively dormant, showing up in a War of the Realms mini, and here and there a few other token appearances.
Then in December of last year came the news of a new Punisher series (just released today) written by veteran Marvel and Punisher writer Jason Aaron. The maxiseries billed as "the definitive culmination" of Frank Castle's journey in the Marvel Universe would be one that turns him into the so-called "King of Killers," working for… the Hand?
Wait, what?
Aside from the completely ludicrous notion that the Punisher would ever work for a known criminal and assassination enterprise like the Hand, the idea of metamorphosing him into something else as a way of hand-waving the recent controversies surrounding the character is the very definition of editorial cowardice. Marvel had a golden opportunity to not only send a clear message to people misusing their character – but also to address their own characters' past actions in letting him remain free. The responsible way to address both of these things might have looked like the Avengers, the X-Men, Spider-Man, Daredevil – whoever was up for it – to at last come to grips with their own laissez-faire treatment of The Punisher and decide to bring him to justice once and for all. It wouldn't have been much of a fight; the story from there could have focused on Frank Castle's trial and subsequent incarceration and wrestled metatextually with the character's own sordid legacy both on-page and in the real world. It could have been bold, definitive, and the actions of a company determined to improve upon past mistakes.
Instead, they made him a ninja.
In yet another short-sighted attempt at "rehabbing" and "changing" the Punisher, Marvel has had him join the ninja assassin group The Hand as their so-called King of Killers. And he's agreed because they resurrected his wife from the dead. So… all's right in the world. At least he isn't shooting people anymore and has an ass-ugly spiffy new logo? Right?
The short answer is no.
By refusing to address the larger issues inherent to the Punisher, past, and present, Marvel has and continues to ignore their responsibilities as a publisher to own up to – and at least attempt to rectify – their mistakes. There was absolutely a time when we, as a society, were largely okay with anti-heroes mowing down supposed "bad guys" by the truckload – as long as it was on TV. Heck, some of my favorite movies are about that. But times are different, and fiction has manifested itself in some very ugly ways in the real world. That means that Marvel owed not just fans but society a reckoning on the Punisher. Changing his logo and trading his guns for swords doesn't change that. It doesn't change the fact that the Punisher is a mass murderer and is most emphatically not someone who should be emulated. Not by law enforcement, not by average citizens. Certainly not by minors with illegally-obtained automatic weaponry who travel across state lines because they care so much about protecting some other town's businesses. And absolutely not by gun-porn fetishists who don't want actual law and order – they just want the people who don't look like them to sit down and keep in their place.
Marvel could have used this moment to say something close to approaching profound, or at the very least, apologetic in tone. Instead, they thought that they could escape that obligation by giving the emperor a new set of clothes. It's Lucy with the football, the illusion of change that's anything but. One thing fans of the Punisher can always count on: superficial changes to him never last. This means that it might take a year or two, but eventually, Frank Castle will be right back to where he was: laughing at law, firing armor-piercing rounds through the concepts of due process, and innocent until proven guilty.
Marvel could have changed that narrative. They made an active choice not to. Silence is consent.
COMMENTARY: No, This Isn't the Way to "Fix" the Punisher
Comments Rating
( reviews)