Image Comics is proud to reveal the first 7 of 14 exclusive virgin wraparound covers. The #Webelieve campaign celebrates artists and their importance, influence, and tremendous contribution they have when putting together the perfect comic. We Believe in Artists will be the first of many great things Image Comics has planned for the innovative #WeBelieve 2018 campaign. This imaginative and glorious campaign will help highlight the importance artist have in the creation of comics. This aspect of the creative process can be easily overlooked in the ever so growing comic industry.
While continuing on throughout this article, try to finish reading it before you take a second, or even third look, at these masterpieces from some of the industries finest.
Considering comics are a visual storytelling medium with artwork as the driving force behind the narrative, tone, and spirit of a comic book's sequential story. Image Comics plans on casting a humongous spotlight for fans and members of the comic book community on the momentous significance a piece of artwork can have to sell these epic pieces of literature to fans. No doubt this campaign will have an impact on the comic industry, not only for fans of Image Comics but art admirers everywhere.
With great words, comes great responsibility. The responsibility to merge your imagination with a team or partner and create something, not even the person who brought it to life could've imagined. A great story is a great start, but combining it with the perfect imagery can stay with a fan forever.
"Simply put, without artists, there would be no comics. The success of the comics industry ultimately hinges on well-told stories, but because comics is by definition a visual medium, artists are integral to that storytelling," said Eric Stephenson, Publisher at Image Comics. 
"Image has always believed in the importance of artists—our company was founded by artists, after all—and we are proud to celebrate the fact that artists of all stripes—from pencilers and inkers to colorists, letterers, and graphic designers—continue to make this wonderful medium so vital, vibrant, and unique." Stephenson finishes the announcement with.
Without titles, endorsement quotes, names, logos, or jacket copy, these wraparound covers feature solely the masterpiece artwork that fans won't want to miss out on experiencing.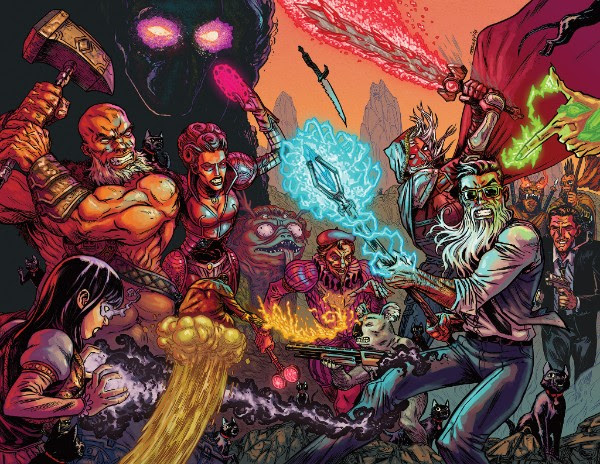 The following bestselling series will feature one of these exclusive, undressed, breathtaking collectors' covers.
Available on Wednesday, March 7th, final order cut-off deadline on Monday, February 12th:
EXTREMITY #12 (Diamond Code JAN180743) by Daniel Warren Johnson
I HATE FAIRYLAND #17 (Diamond Code JAN180756) by Skottie Young
THE WICKED + THE DIVINE #34 (Diamond Code JAN180654) by Jamie McKelvie
WITCHBLADE #4 (Diamond Code JAN180875) by Roberta Ingranata
Available on Wednesday, March 14th, final order cut-off deadline on Monday, February 19th:
CURSE WORDS #12 (Diamond Code JAN180722) by Ryan Browne
DEADLY CLASS #32 (Diamond Code JAN180624) by Wes Craig
MAESTROS #6 (Diamond Code JAN180797) by Nicholas Pitarra
VS #2 (Diamond Code JAN180842) by Esad Ribi?
Available on Wednesday, March 21st, final order cutoff deadline on Monday, February 26th:
KILL OR BE KILLED #17 (Diamond Code JAN180793) by Sean Phillips
MONSTRESS #15 (Diamond Code JAN180801) by Yoshi Yoshitani
RUMBLE #4 (Diamond Code JAN180820) by David Rubín
Available on Wednesday, March 28th, final order cutoff deadline on Monday, March 5th:
BEAUTY #21 (Diamond Code JAN180700) by Jeremy Haun
SPAWN #284 (Diamond Code JAN180831) by Todd McFarlane
EAST OF WEST #37 (Diamond Code DEC178255) by Nick Dragotta
For all the exclusive coverage on Image Comics #Webelieve campaign
---
Subscribe to us on YouTube, Follow us on Twitter, and Like us on Facebook!
Join our Age of Social Media Network consisting of X-Men, Marvel, DC, Superhero and Action Movies, Anime, Indie Comics, and numerous fan pages. Interested in becoming a member? Join us by clicking here and pick your favorite group!
Comments Rating
( reviews)