Next week's X-Title offerings from MARVEL Comics are:
DEMON WARS: SHIELD OF JUSTICE #1,
IMMORTAL X-MEN #8
GAMBIT #5
Check out the previews for these Comic Watch Picks of the Week…
DEMON WARS: SHIELD OF JUSTICE #1
Visionary creator Peach Momoko's next Marvel epic began in DEMON WARS: THE IRON SAMURAI! Continues in this week's second installment of the four-part series reimaging the iconic Marvel event, Civil War, continues next week in DEMON WARS: SHIELD OF JUSTICE #1!
Told through the lens of one of the industry's most inventive talents, the classic Civil War story is blended with traditional Japanese folklore, as the major players of the storyline, including Captain America, Iron Man, and Black Panther are presented with stunning mystical redesigns.
Nick Dragotta Variant Cover: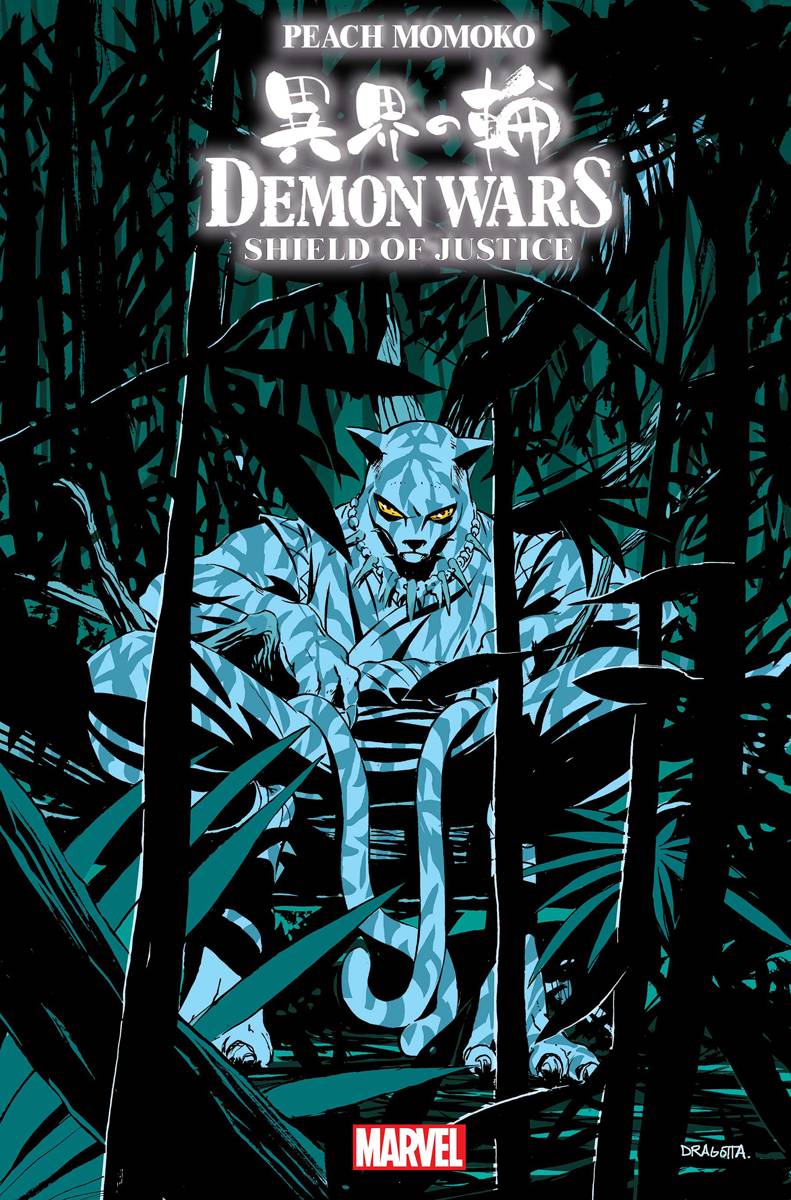 Gurihiru Variant Cover: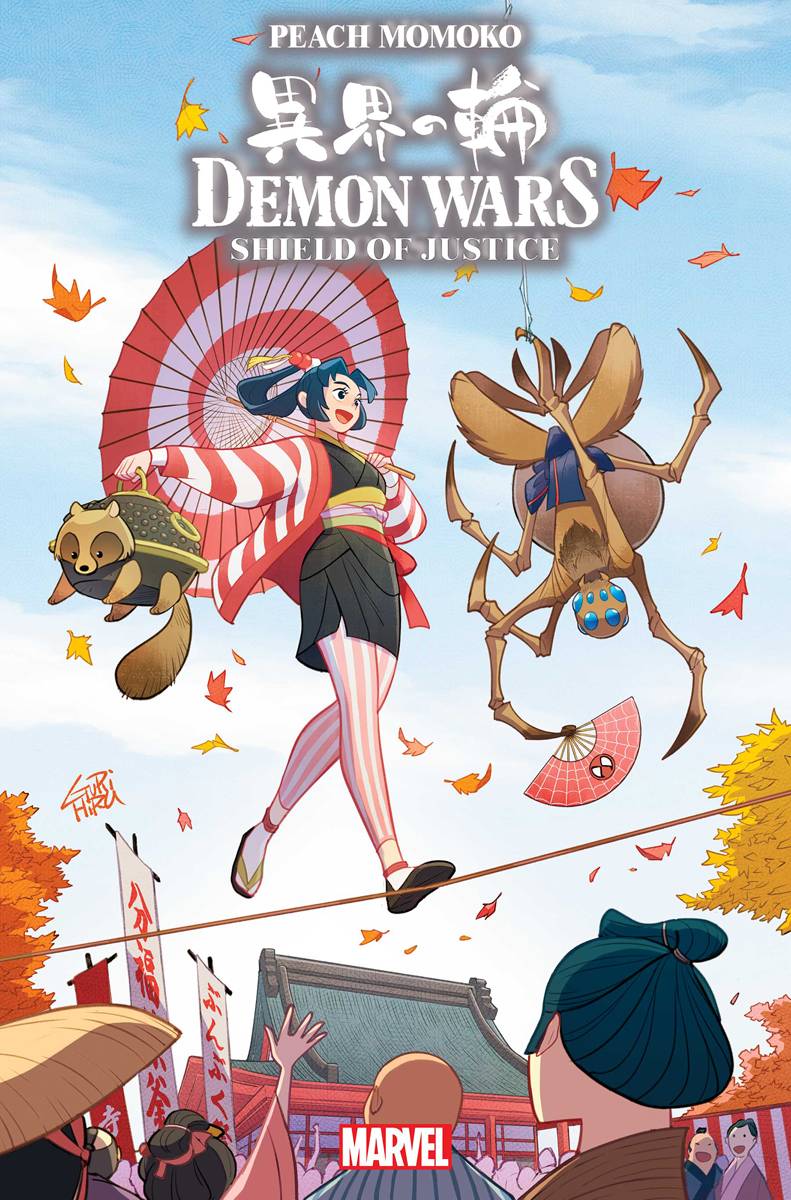 James Harren Variant Cover: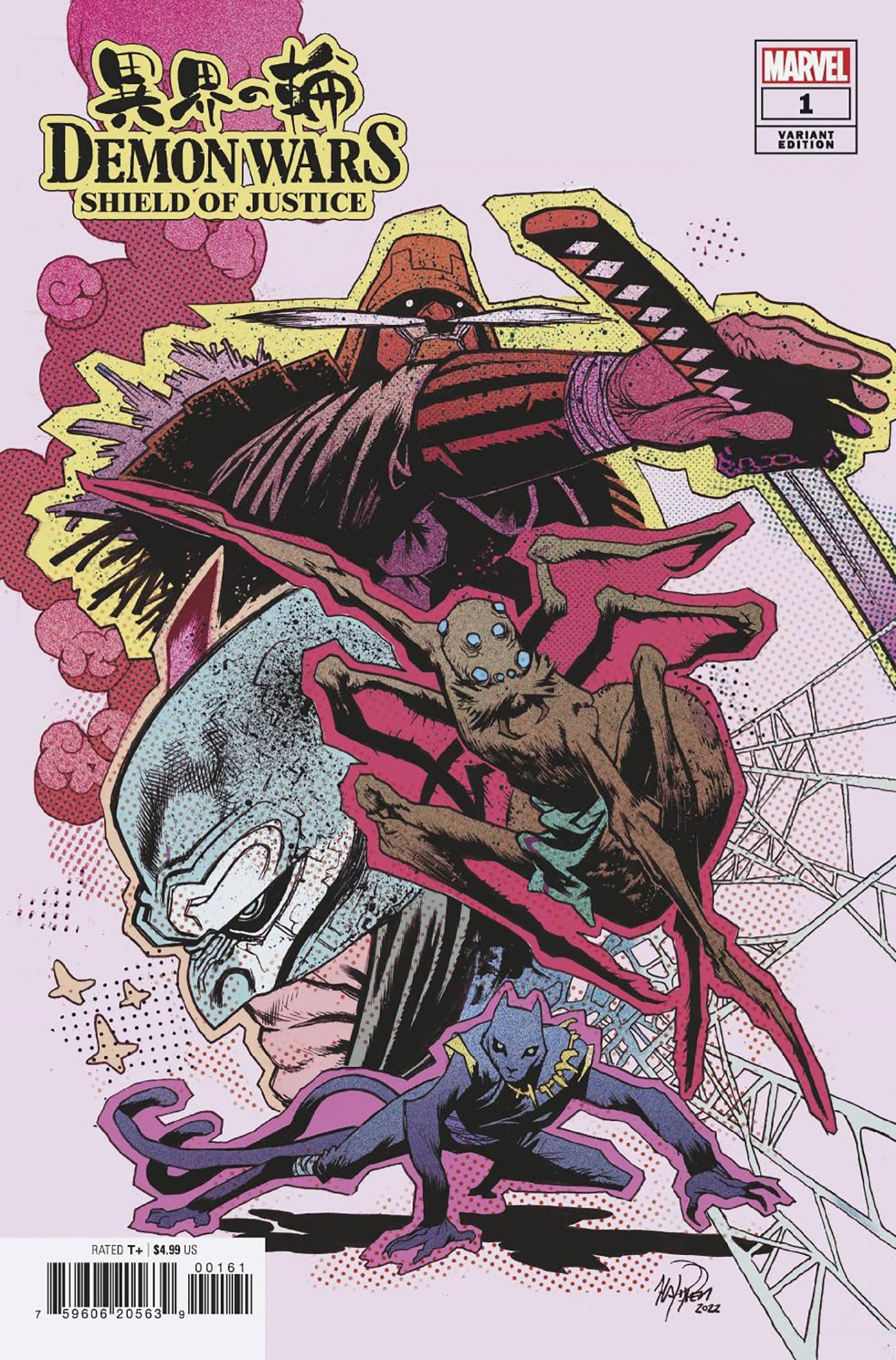 Peach Momoko Variant Cover: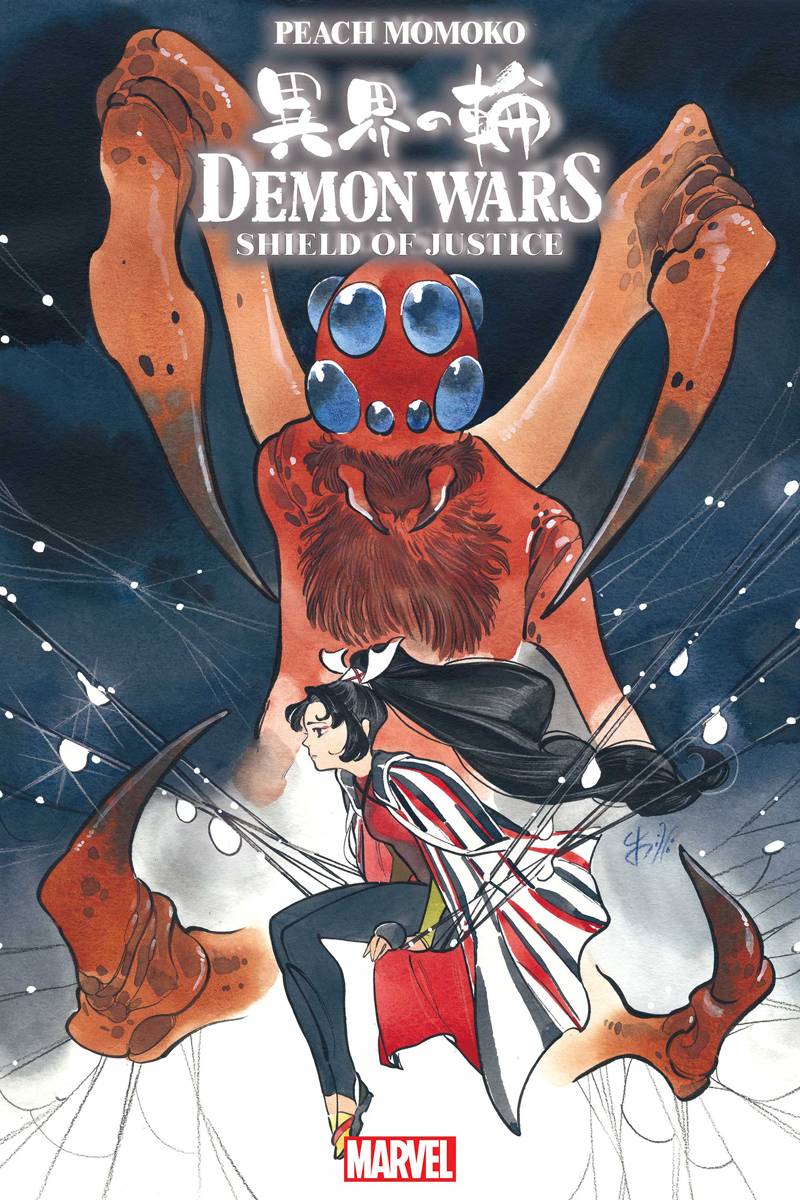 Klein 1:25 Incentive Variant Cover:
Peach Momoko 1:100 Incentive Virgin Variant Cover:
DEMON WARS: SHIELD OF JUSTICE #1!
It's Iron Samurai VS. Shield of Justice! Mariko Yashida is torn between two worlds: the human world and the yokai dimension–a strange world filled with stranger creatures. The denizens of the yokai dimension need Mariko's help to stop a war that's brewing between two factions, one led by the Iron Samurai and his spider-like ally, and the other by a shield-wielding warrior and his panther-like right hand. The clash between them could have cataclysmic consequences for both worlds!
Creative Team
Story: Peach Momoko
Writer: Zack Davisson
Artist: Peach Momoko
Letterer: Ariana Maher
Designer: Jay Bowen
Editor(s): Lindsey Cohick
Standard Cover Artist(s): Peach Momoko
Variant Cover Artist(s): Peach Momoko, Nick Dragotta Gurihiru James Harren
Format: Limited Series
Page Count/Cover Price: 36 pages/$4.99
—XXX—XXX—
IMMORTAL X-MEN #8
Writer Kieron Gillen (UNCANNY X-MEN, ETERNALS, The Wicked + The Divine, Die) returns to the world of X with artist Lucas Werneck (X-MEN: THE TRIAL OF MAGNETO) to bring us all into the room where it happens. "It" being "the most powerful people on Earth deciding the fate of the whole planet." Prepare for sinister secrets to be revealed and learn that some secrets are more sinister than others…
Mutantkind is reshaped once more, as Krakoa's greatest triumphs and most crushing challenges and fallout of the A.X.E.: Day of Judgement are felt throughout the Mutant Nation.
The possibilities are endless as your favorite ongoing X-series embrace their future in this week's IMMORTAL X-MEN #8.
Comic Watch Review: Immortal X-Men #7: When the Man Comes Around
Phil Noto Quiet Council Variant Cover: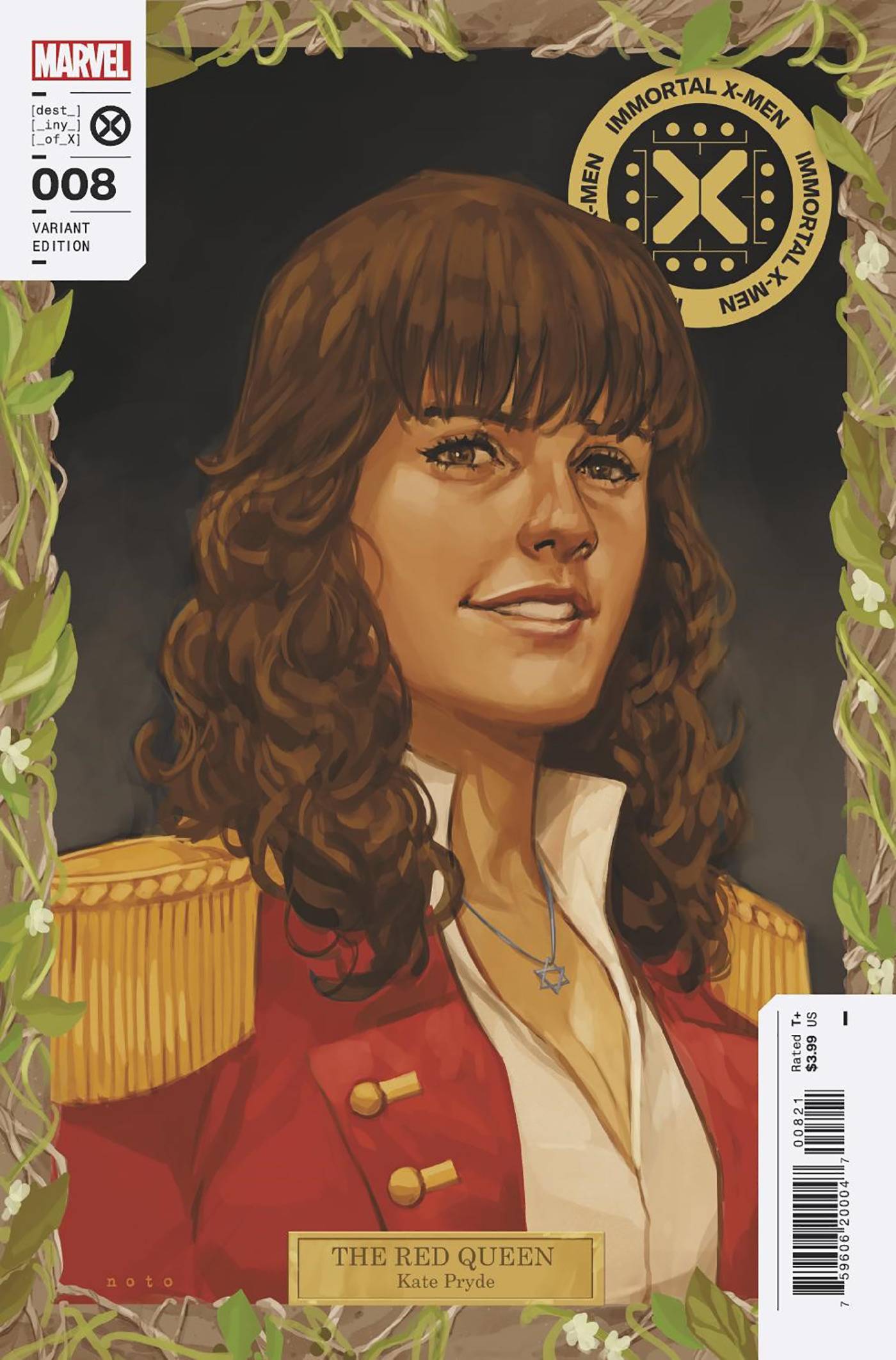 Sergio Davila 1:25 Incentive Variant Cover:
IMMORTAL X-MEN #8
A STUDY IN CERULEAN!
Lawks! What's going on in foggy old London town in the year of our lord 1895? Well, it's only Sherlock Holmes, Mystique and Destiny on the tracks of a murderer and uncovering a truth that's significantly more sinister…
CREATIVE TEAM
Writer:  Kieron Gillen
Artist:  Michele Bandini
Colorist: David Curiel
Letterer: Clayton Cowles
Designer: Tom Muller
Editor(s):  Jordan D. White
Assistant Editor: Lauren Amaro
Standard Cover Artist(s):  Mark Brooks
Variant Cover Artist(s):  Phil Noto; Sergio Davila
Format: Ongoing
Page Count/Cover Price: 28 pages/$3.99
—XXX—XXX—
GAMBIT #5
Chris Claremont, the legendary writer who defined the X-Men and crafted the franchise's most influential stories, returns with a brand-new X-Men saga starring one his most popular co-creations—GAMBIT!
The series continues to unearth a wide range of previously untold adventures, from a brush with the Shadow King to an array of earthbound and out-of-this-world escapades, giving Claremont a chance to further explore Gambit's path to becoming a heroic X-Man as well as reveal new insights into another trademark character of his, Storm, at a pivotal moment in her history in this week's GAMBIT #5.
Comic Watch Review: 
Russell Dauterman Variant Cover: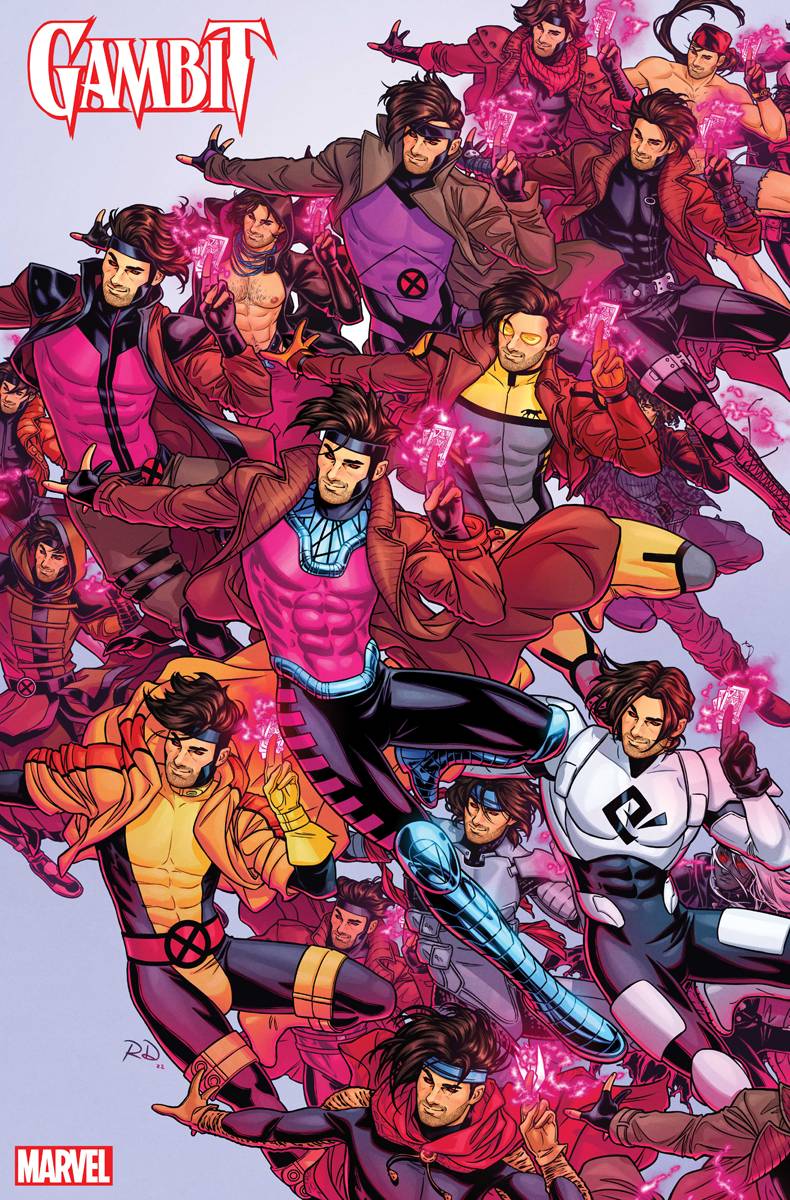 Ivan Tao Variant & Virgin Variant Cover:
GAMBIT #5
ALL GOOD THINGS, MON AMI…
GAMBIT and 'RO must do battle with a trio of intergalactic bounty hunters as Remy finds himself in the crosshairs of competing forces looking for revenge…and a payday!
CREATIVE TEAM
Writer: Chris Claremont
Artist: Sid Kotian
Colorits: Espen Grendetgern
Letterer: VC's Clayton Cowles
Designer: Nick Russell
Senior Editor: Jordan D. White
Editor: Mark Basso
Assistant Editor: Lauren Amaro
Standard Cover Artist: Whilce Portacio & Alex Sinclair
Variant Cover Artist: Russell Dauterman; Ivan Tao
Format: Limited Series
Cover Price / Page Count: $3.99 / 28 pages
—XXX—XXX—
DEMON WARS: SHIELD OF JUSTICE #1, IMMORTAL X-MEN #8, & GAMBIT #5 arrive on shelves and digital platforms on Wednesday, November 16, 2022, from Marvel Comics
GIANT-SIZED PREVIEW X-MEN TITLES FOR Nov 16, 2022: DEMON WARS: SHIELD OF JUSTICE #1, IMMORTAL X-MEN #8, & GAMBIT #5
Comments Rating
( reviews)