DEMON WARS: DOWN IN FLAME #1, X-FORCE #37, LEGION OF X #10, & SCARLET WITCH #2 are Marvel's offerings this week in the Mutant Corner of the Marvel Univese.
— —
DEMON WARS: DOWN IN FLAMES #1
Visionary creator Peach Momoko's Marvel epic reimagining the iconic Marvel event, Civil War, in breathtaking fashion. continues in DEMON WARS: DOWN IN FLAMES #1. Told through the lens of one of the industry's most inventive talents, the classic Civil War story beats are blended with traditional Japanese folklore, and the event's major players including Captain America, Iron Man, and Black Panther have received stunning, mystical redesigns.
It's Iron Samurai VS. Shield of Justice! Mariko Yashida is torn between two worlds: the human world and the yokai dimension–a strange world filled with stranger creatures. The denizens of the yokai dimension need Mariko's help to stop a war that's brewing between two factions, one led by the Iron Samurai and his spider-like ally, and the other by a shield-wielding warrior and his panther-like right hand. The clash between them could have cataclysmic consequences for both worlds!
Comic Watch Review:
Gurihiru Variant Cover: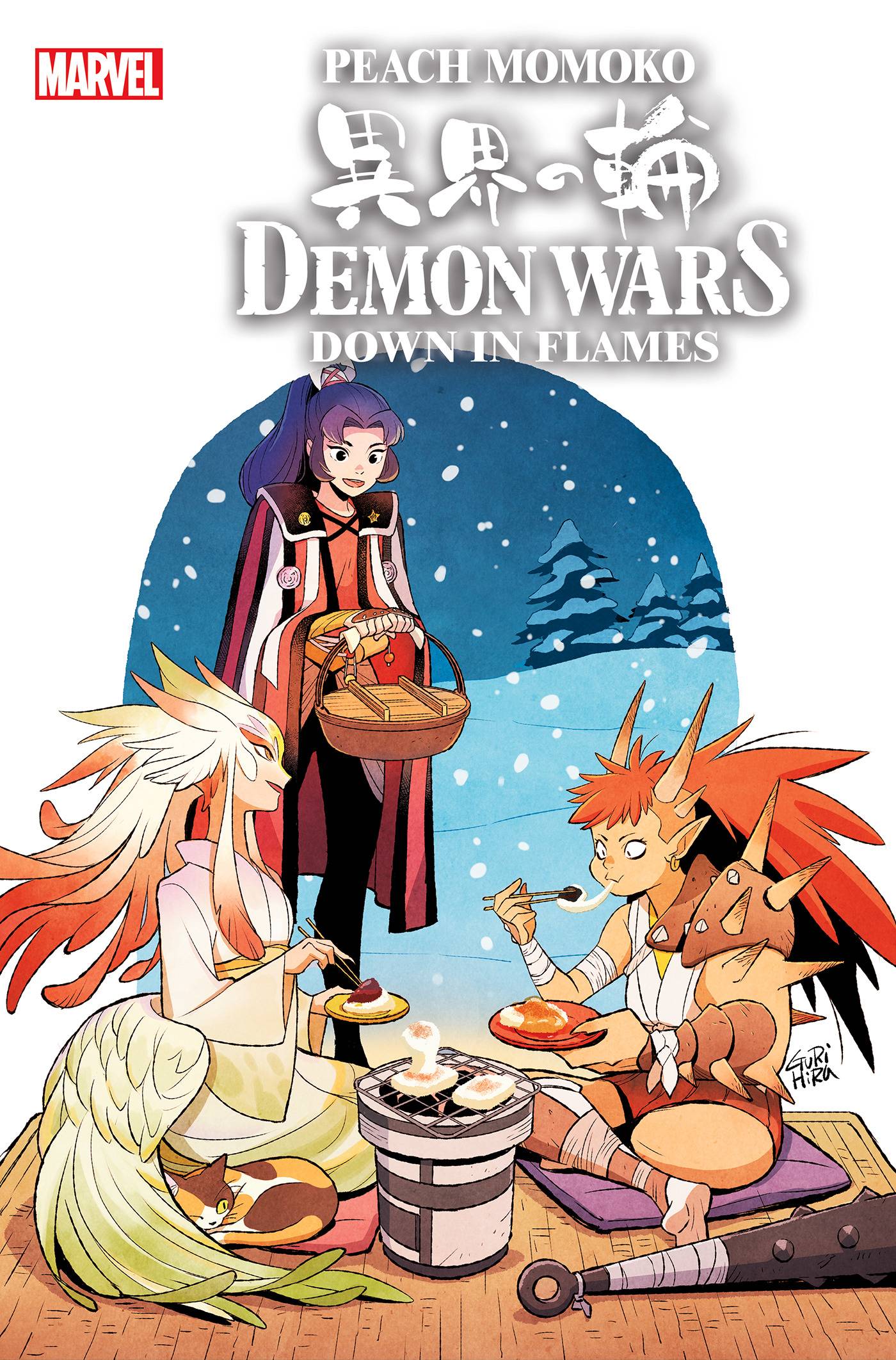 Daniel Warren Johnson Variant Cover: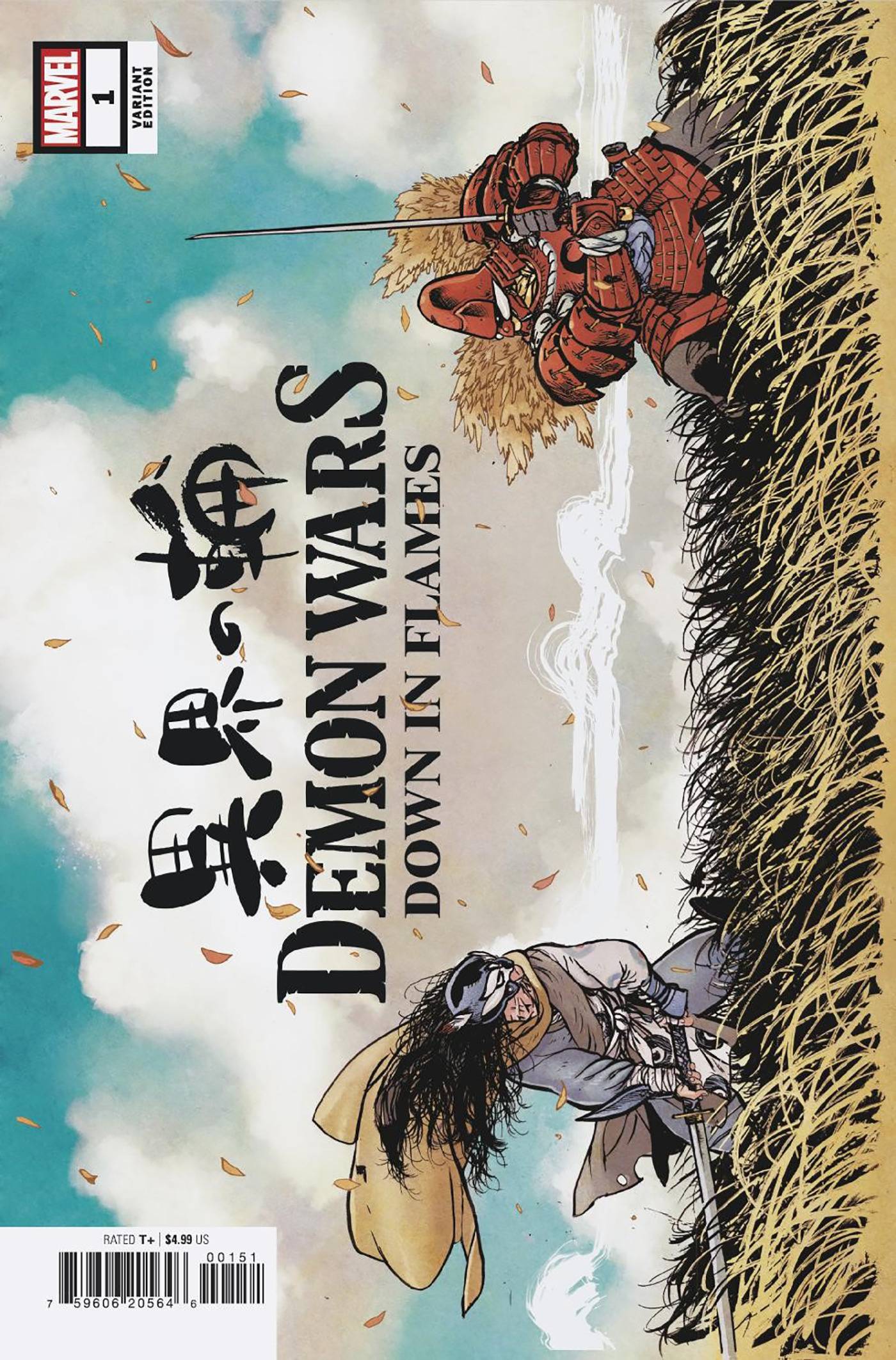 Dan Panosian Variant Cover: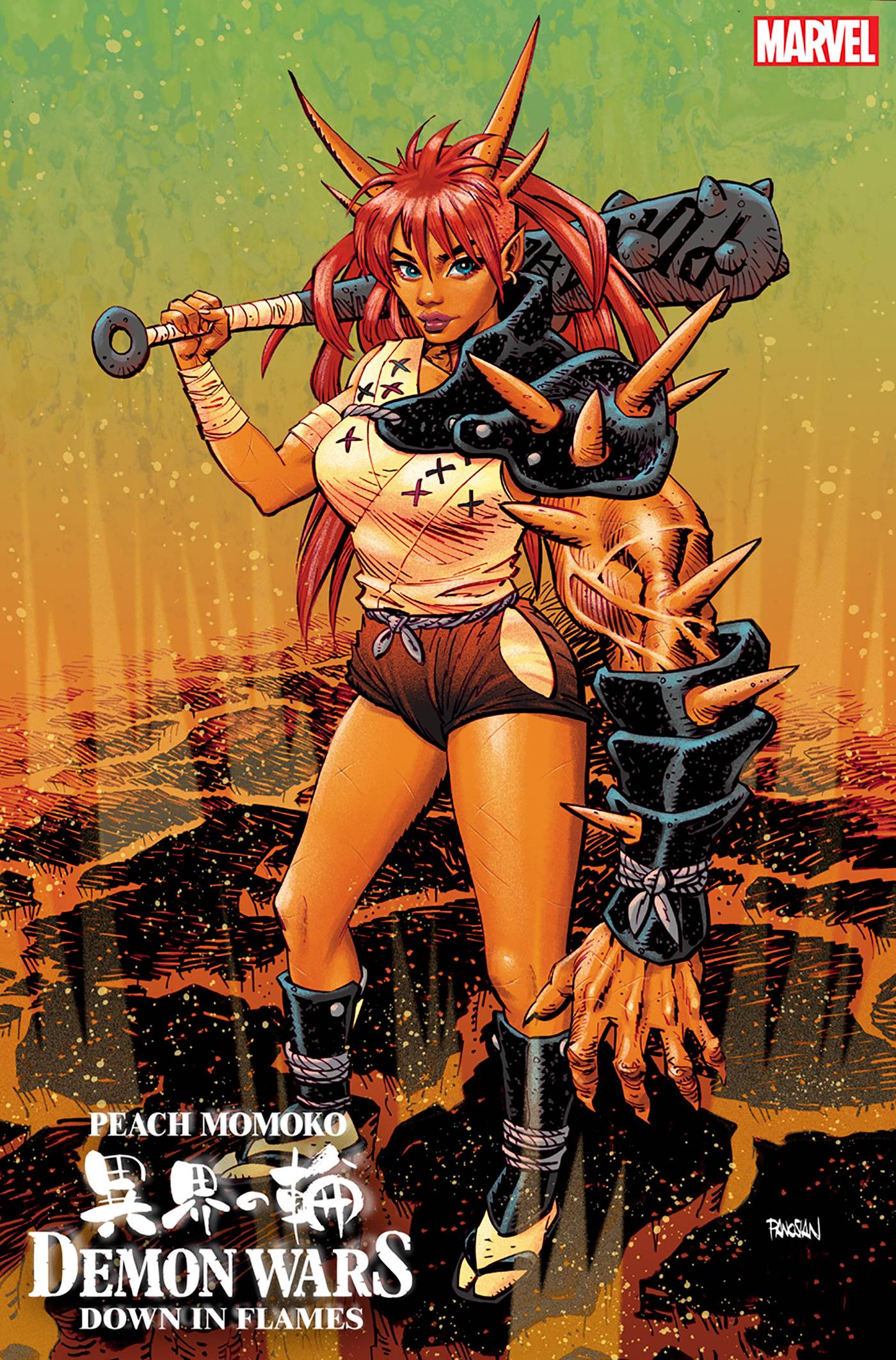 Peach Momoko Variant Cover: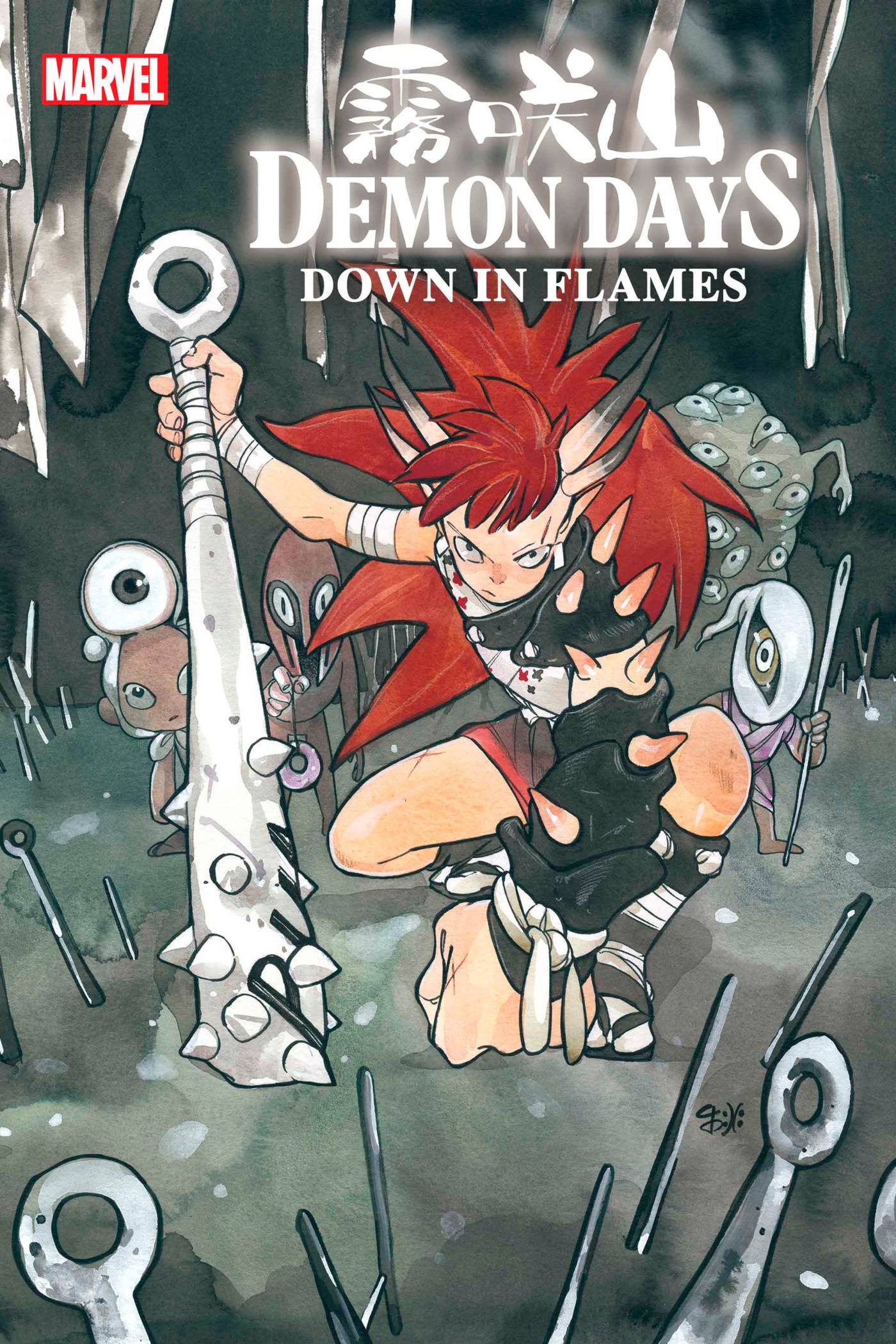 Creees Lee 1:25 Incentive Variant Cover: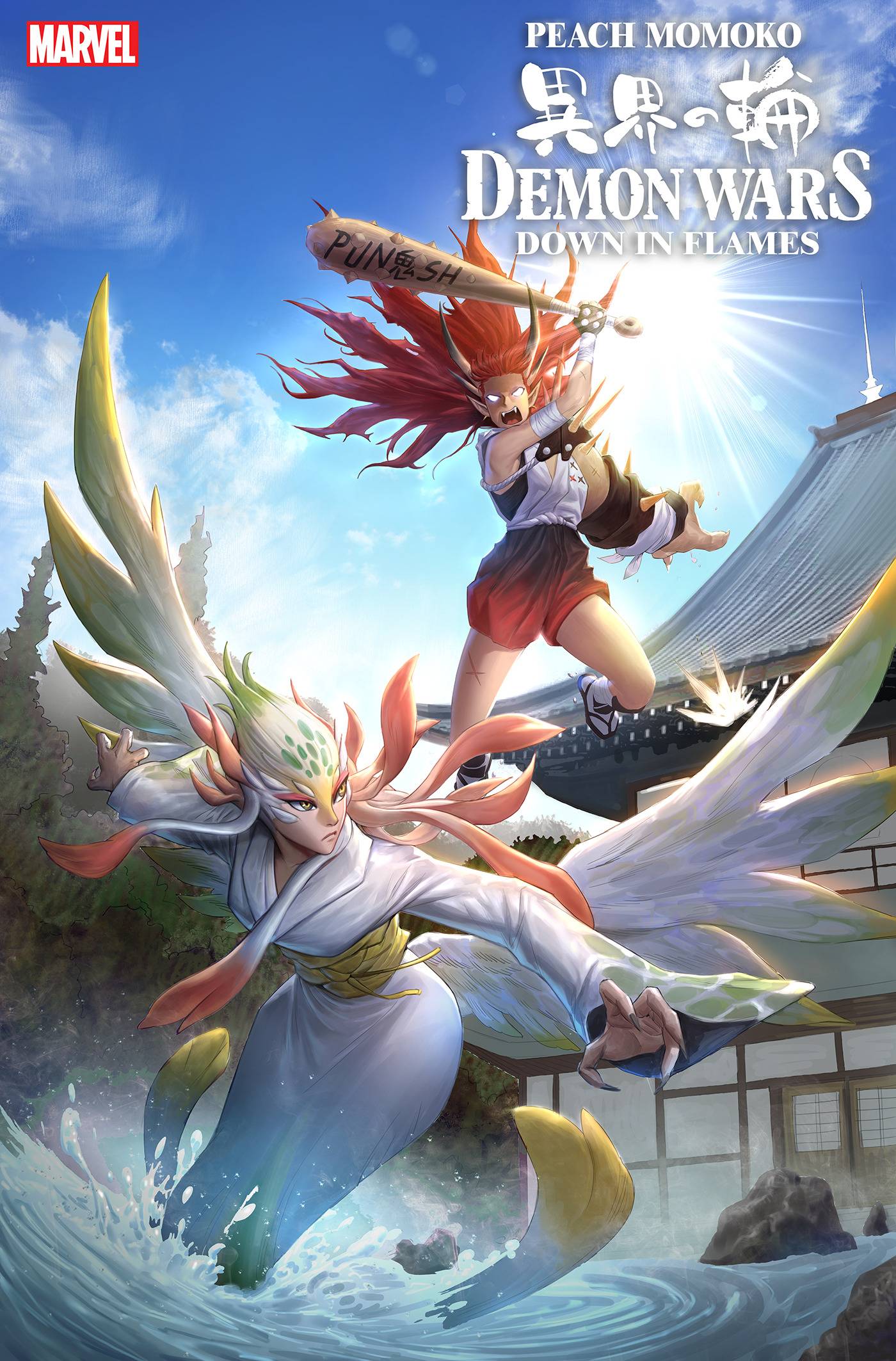 Peach Momoko 1:100 Incentive Virgin Variant Cover: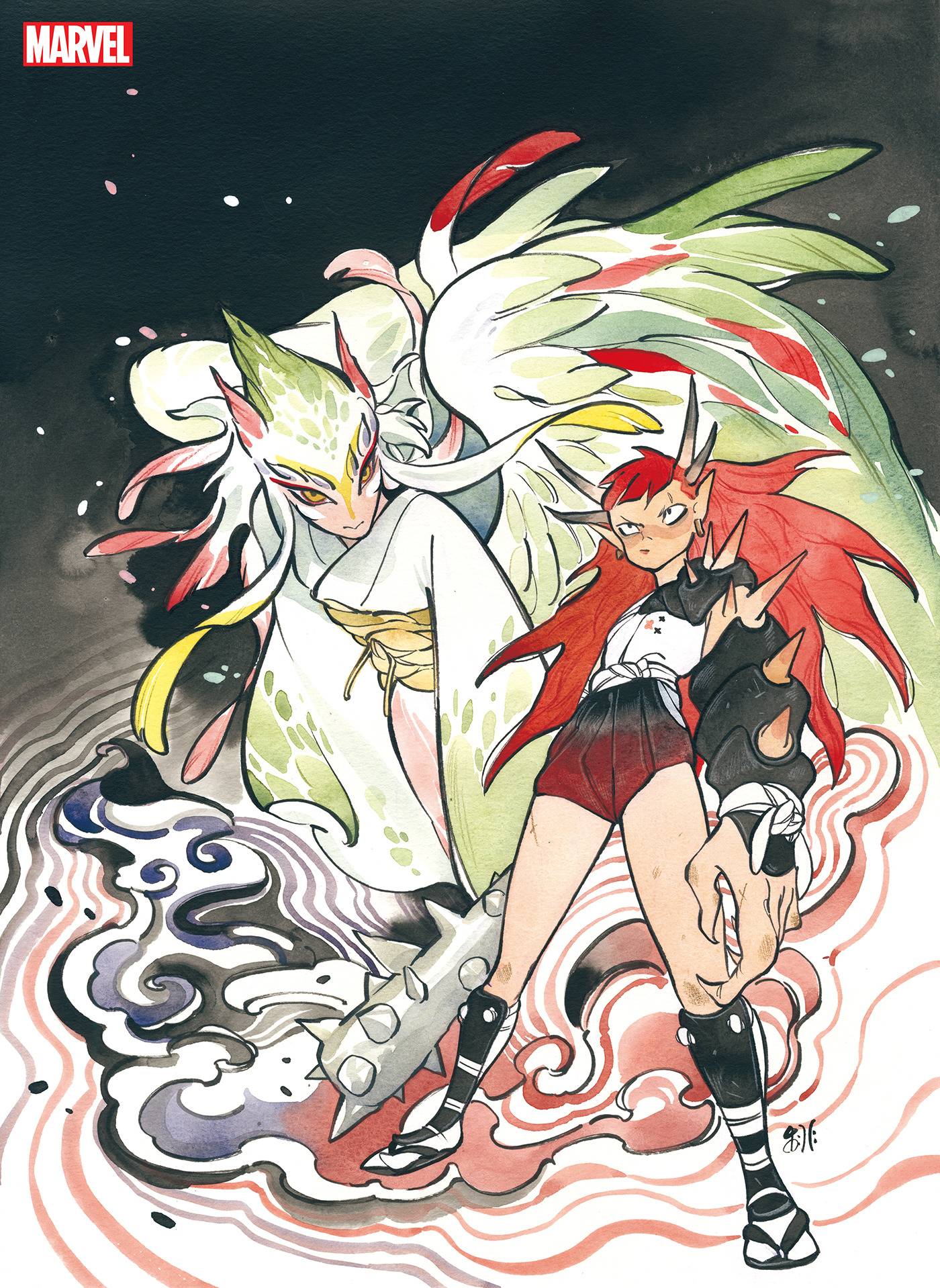 DEMON WARS: DOWN IN FLAME #1
PHOENIX vs MAGIK! Things are heating up in Momoko's Marvel Universe! The spirit world is divided. Its inhabitants, strange creatures called yokai, have chosen sides, and the two factions are on the brink of all-out war. A bird-like yokai who wields some serious firepower faces off against a club-wielding demon. Mariko Yashida finds herself right in the middle of it.No matter which side she chooses, there will be consequences not only for the spirit world, but for the human world too.
Creative Team
Story: Peach Momoko
Writer: Zack Davisson
Artist: Peach Momoko
Letterer: Ariana Maher
Designer: Jay Bowen
Editor(s): Lindsey Cohick
Standard Cover Artist(s): Peach Momoko
Variant Cover Artist(s): Peach Momoko, Daniel Warren Johnson; Gurihiru, Creees Lee
Format: Limited Series
Page Count/Cover Price: 36 pages/$4.99
— — —
SCARLET WITCH #2
Following her redemption in the pages of X-Men: Trial of Magneto, Wanda was reborn as the hero the Marvel Universe needs her to be!
Now she is making the most of her fresh start, using her powers in a glorious new way and embracing a new calling to help those who need it the most beginning in the brand-new ongoing solo series continues in SCARLET WITCH #2.
Comic Watch Review: SCARLET WITCH#1: Abra, Abracadabra. I'm Gonna Reach Out And Grab Ya…
C.F. Villa Stormbreakers Variant Cover:
Souza Storm Black History Month Variant Cover:
Lee Garbett Planet of the Apes Variant Cover:
Alex Maleev 1:25 Incentive Variant Cover:
SCARLET WITCH #2
SCARLET WITCH BATTLES DREAMQUEEN!
Wanda Maximoff is no stranger to grief, so when Viv Vision stumbles through Wanda's door, exhausted and terrified of the nightmares playing her mother's death on repeat, Wanda dives into Viv's dreams to find the cause of the android's suffering. And it turns out Viv isn't alone in her mind… Scarlet Witch faces off against DREAMQUEEN in a reality-bending battle for Viv's freedom!
PLUS! This issue includes a special super-heroic back-up story featuring Scarlet Witch and Storm celebrating Black History Month!
CREATIVE TEAM
Writer: Steve Orlando
Artist(s): Sara Pichelli
Colorists: Matt Wilson & Dee Cunniffe
Letterer: Cory Petit
Designer: Anthony Gambino
Cover Artist: Russell Dauterman
Variant Cover Artists: Lee Garbett; Ernanda Souza; Alex Maleev;  C.F. Villa
Senior Editor: Wil Moss
Editor: Alanna Smith
Asssitant Editor: Kaitlyn Lindtvedt
Format: Ongoing
Cover Price/Page Count: $4.99/36 pages
— — — —
X-FORCE #37
Last issue the team closed in on the Man with the Peacock Tattoo, and the full breadth of his plans were finally revealed, and a major turning point for the team…and more than one key X-characters!
This issue X-fans new and old will reel from this startling revelation. Collectors and readers alike—don't miss this key issue X-FORCE #37.
Marco Mastrazzo Variant Cover: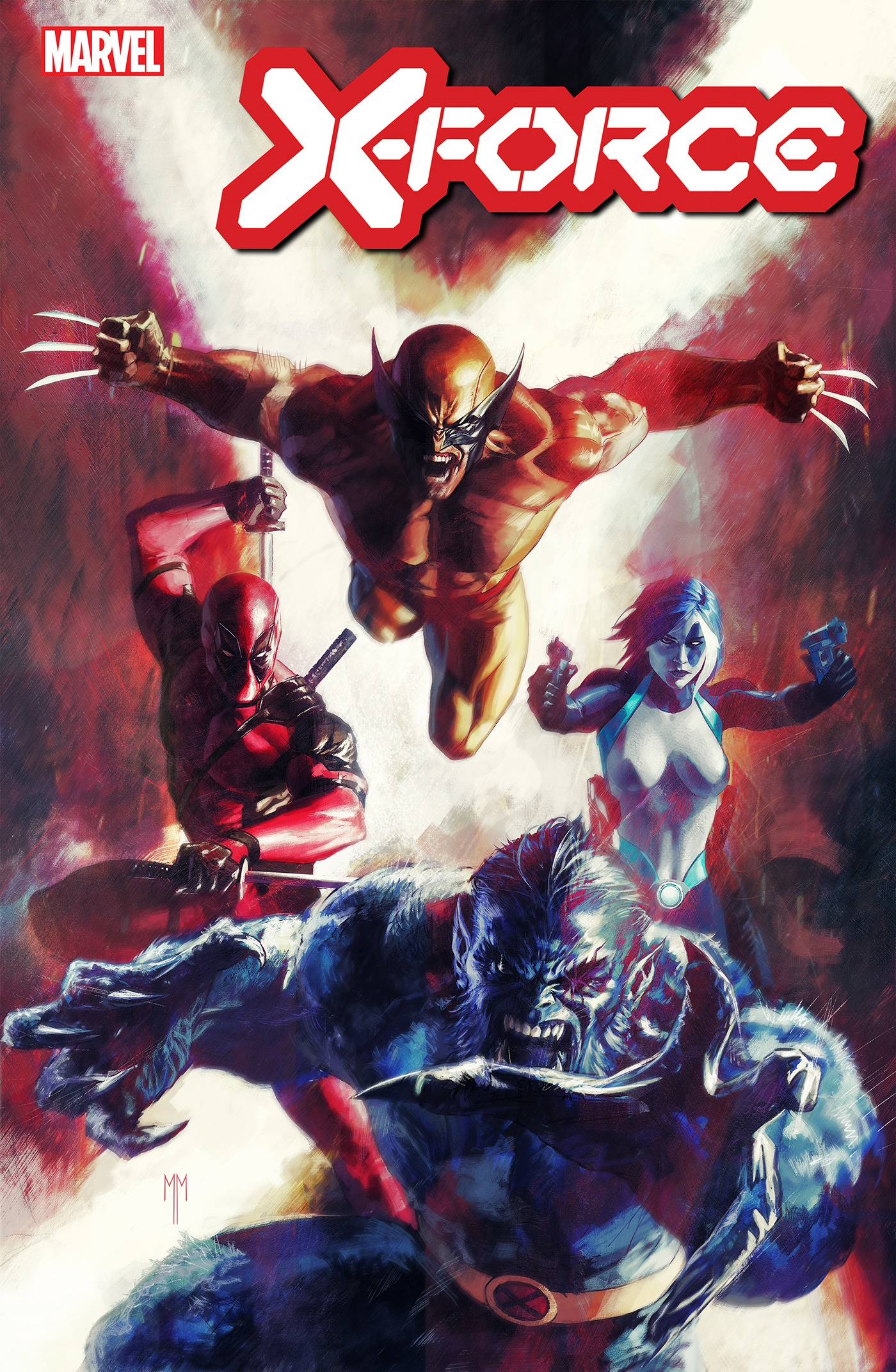 Alan Davis & David Curiel Planet Of The Apes Variant Cover: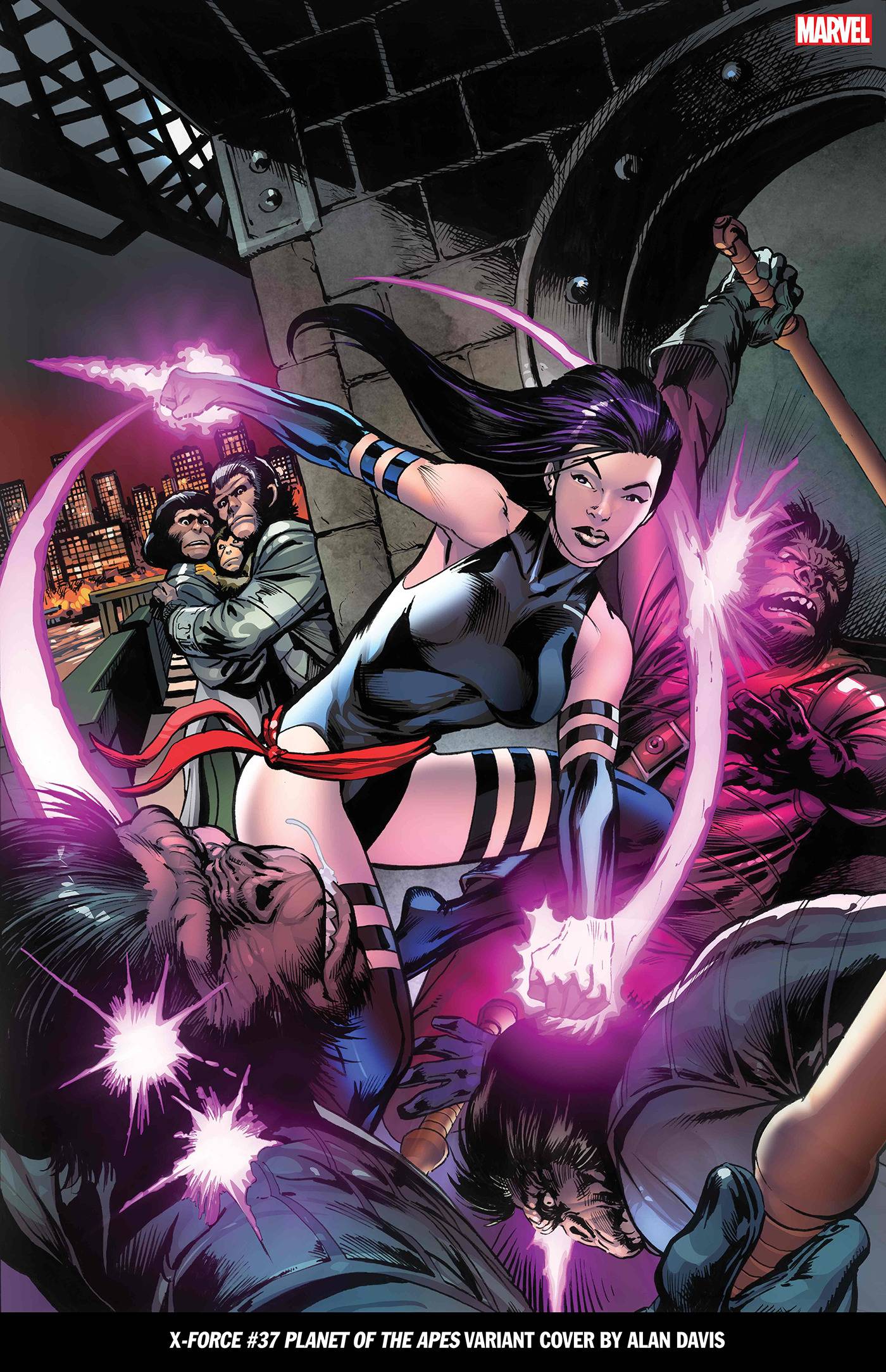 X-FORCE #37 (Legacy #277)
WHO IS THE MAN WITH THE PEACOCK TATTOO? At last—learn the truth about the man behind the mask who's been plaguing X-FORCE since 2019's issue #1!
CREATIVE TEAM
Writer: Benjamin Percy
Artist: Christopher Allen
Colorist: Guru-eFX
Letterer: VC's Joe Caramagna
Designer: Tom Muller & Jay Bowen
Senior X-Men Editor(s): Jordan D. White
Editor: Mark Basso
Assistant Editor: Drew Baumgartner
Standard Cover Artist(s): Joshua Cassara & Dean White
Variant Cover Artist(s): Alan Davis David Curiel; Marco Mastrazzo
Format: Ongoing Series
Page Count/Cover Price: 28 pages/$3.99
 LEGION OF X #10
The mutant nation of Krakoa is thriving like never before; however, beneath the surface of this mutant paradise, troubling questions still remain. Krakoa has its laws—but does it have justice? Find out in this week's preview of LEGION OF X #10, which was also an Exclusive Preview for Comic Watch.
Comic Watch Review: Legion of X #9: The Parent Trap
THE LEGION CRUMBLES IN NIMROD'S VENGEFUL HANDS! 
Since the Altar's creation, a villain has lurked in what was meant to be Krakoa's safest space. He's done waiting. And so is the Phalanx!
David Haller faces his worst nightmares as the Altar comes under attack! Good thing he has Nightcrawler to—wait, Nightcrawler isn't even on Krakoa? He's off in the woods…murdering his friends?! What happened to the Spark—and is there any hope left for Krakoa's peacekeepers?
Creative Team
Writer:  Si Spurrier
Artist: Netho Diaz
Colorist: Javier Tartaglia
Inker: Sean Parsons
Letterer: Clayton Cowles
Designer: Tom Muller, Clayton Cowles & Jay Bowen
Senior Editor(s): Jordan D. White
Editor: Sarah Brunstad
Associate Editor: Anita Okoye
Standard Cover Artist(s): Ben Harvey & Matt Wilson
Format: Ongoing Series
Page Count/Cover Price: 28 pages/$3.99
—XX—
DEMON WARS: DOWN IN FLAME #1, X-FORCE #37, LEGION OF X #10, & SCARLET WITCH #2 arrive in stores and digitally on Wednesday, February 1, 2023, from Marvel Comics
Giant-Sized X-Men Sneak Previews for February 1, 2023: DEMON WARS: DOWN IN FLAME #1, X-FORCE #37, LEGION OF X #10, & SCARLET WITCH #2
Comments Rating
( reviews)