Since it was announced back in November that Brian Michael Bendis would be making the controversial move to DC, speculation has been rife as to what projects he would be tackling first. In an exclusive interview with Forbes magazine, some light has been shed on what his future at DC holds.
The big news is obviously the announcement that he will be taking over writing duties on both Action Comics and Superman which to quote Bendis in the article:
"I'm very excited about this, it's a very big deal." He continued, "When I was first approached by DC, there was a lot of speculation about what I would do and what characters I'm interested in. But the one at the top of my list — and it surprised some people — but at the top of my list was Superman."
In the article, Bendis reveals that serendipitous timing had as much with him getting to write the iconic character:
"My first appearance in DC Comics will be Action Comics #1000," Bendis said. "It was a lovely offer from [DC Comics Co-Publisher] Dan DiDio when we were discussing my plans and what I could or couldn't do. He called me up the next day and he goes, 'I don't want to be greedy or rush you, but we happen to have this once in a lifetime Superman situation going on with Action Comics #1000.' And I'm desperately in love with the DC anniversary editions, I've always been in love with them. Superman #400, for example, is one of the best comics ever made, it's such a celebration of art."
Bendis goes on further to explain:
"Dan goes, 'There is a possibility we could give you a first shot to write in Action Comics #1000, and make it really a big part of the Superman legacy and our legacy. What if we put our foot down and say this is a big part of the character, where we're headed is a big thing and we believe in it, so there's no better place to put it than in Action Comics #1000 with our publisher Jim Lee drawing it.' And I was like, of course, I'm going to say yes to this!"
He will kick off with contributing to landmark issue #1000 of Action Comics in April and then DC will follow up by releasing a six-issue miniseries by the scribe called Man of Steel which commences May 30th and will feature art from some fantastic comic book artists including van Reis, Evan "Doc" Shaner, Ryan Sook, Kevin Maguire, Adam Hughes, and Jason Fabok.
And Bendis in inimitable style is wading right in! While still keeping things close to the chest these are some of the details he revealed about the Man of Steel   miniseries:
"The Man of Steel story will debut a huge new villain, a blockbuster villain who connects deeply to Superman's origin story and to his birthright," Bendis revealed. "We're going to dig in very hard, this is one of my goals, to be an additive to Superman as possible. The characters we debut right away, including this new villain, will send ripples of horror across the entire Superman family and beyond!"
After the mini-series wraps up Bendis will take the helm with a new #1 Superman on July 11th and Action Comics #1001 on July 25th. Bendis also revealed that he will be setting two very different tones for the two books with the Superman being  big action orientated book and Action Comics to quote Bendis:
Action Comics will be launching with #1001, I'm very happy to say, and that will be focused more on Clark and Metropolis and the Daily Planet, and how the world of Superman effects the world of DC."
it doesn't stop there Bendis also excitedly revealed that between Action Comics #1000 and Man of Steel#1 there will be a special issue called DC Nation #0 which will feature the art of absolute comic luminary  José Luis García-López (cue swoon!) and will set up the what is going on and going to happen in the Action Comics title. Bendis also makes it clear he has definite plans for Metropolis as a whole in this regard.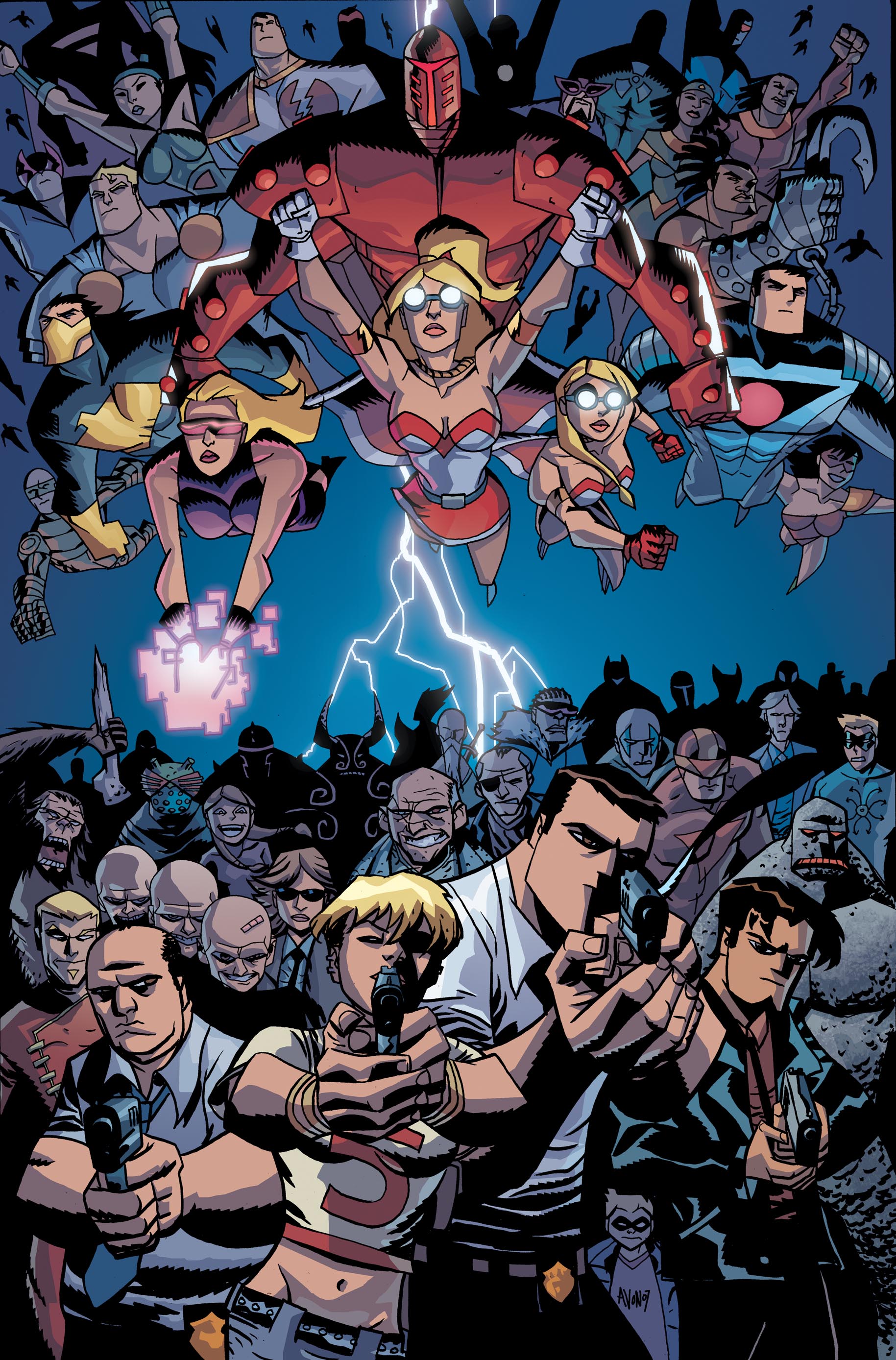 The news doesn't end there, stepping away from Superman it has been further revealed that in an exclusive deal Dc would be hosting JinxWorld in its entirety which Bendis explained in his own words:
 "They're going to take my entire library — and by mine I mean the stuff I own with my co-creators and collaborators — from Powers to Jinx, and to Scarlet and others, and we'll be releasing it all digitally and in print through Jinxworld, through DC Comics."
Bendis further goes on to explain the what is unique about the deal and it is twofold:
 "Two things are happening that are unique to this partnership and to how comics usually work. Number one, DC is going to be hosting Jinxworld as a whole so everything I've ever done in the creator-owned world will be coming to DC. And on top of that, we'll be debuting brand new material, brand new series that I think will be exciting for the marketplace and for fans, stuff I haven't tried before and stuff people have been begging us for. We'll be debuting that all this year."
"And number two, separate from Jinxworld, is that I will be hosting and curating an imprint, a custom imprint not unlike what Gerard Way is doing with [DC imprint] Young Animal. It's going to be a select series of special comics, and we'll debut what those are later in the year. I'll be writing some of those and curating the others, but they'll all be under this imprint and add a very special flavor to the DC Universe. I'm happy to say it will star some of my all-time favorite DC characters in unique situations, and that I could not be more excited for."
One thing is for certain love him or hate him it's undeniable that Brian Michael Bendis is not afraid to take chances and take on the comic worlds most sacred cows, It'll be interesting to see where he takes 'the farm boy from Kansas by way of Krypton' and just as interesting to see what the effect his influence on DC, as a whole through both the Superman books and the new content he intends to put out under their flag will be. The great thing is as comic fans we will all have a front row seat.
As always we will be watching.
---
Subscribe to us on YouTube, Follow us on Twitter, and Like us on Facebook!
Join our Age of Social Media Network consisting of X-Men, Marvel, DC, Superhero and Action Movies, Anime, Indie Comics, and numerous fan pages. Interested in becoming a member? Join us by clicking here and pick your favorite group!
Comments Rating
( reviews)