"The End of the Spider-Verse" is here as Spidey's 60th Anniversary rolls on and SPIDER-MAN#1 is no joke as two of the most legendary Spider-Creators are working together on Spidey for the first time and you know it's going to be one for the record books!
Humberto Ramos Variant Cover:
Skottie Young Variant Cover:
Bengal Connecting Variant Cover:
John Tyler Christopher Action Figure Variant Cover:
Betsy Cola Stadium Comics Exclusive Variant Cover – Ltd. 3000 Variant Cover:
Blank Sketch Variant Cover:
Arthur Adams Variant Covers:
Chrissie Zullo Variant and NYCC Virgin Variant Cover:
Felipe Massafera Variant Covers:
Gabriele Dell'Otto Variant Covers:
In-Hyuk Lee Variant Covers:
Jung-Geun Yoon Variant Covers:
Mico Suayan Variant Covers:
Mike Mayhew Variant Covers:
R1c0 Variant Covers:
Sabine Rich Variant Covers:
Ryan Stegman 1:25 Incentive Variant Cover: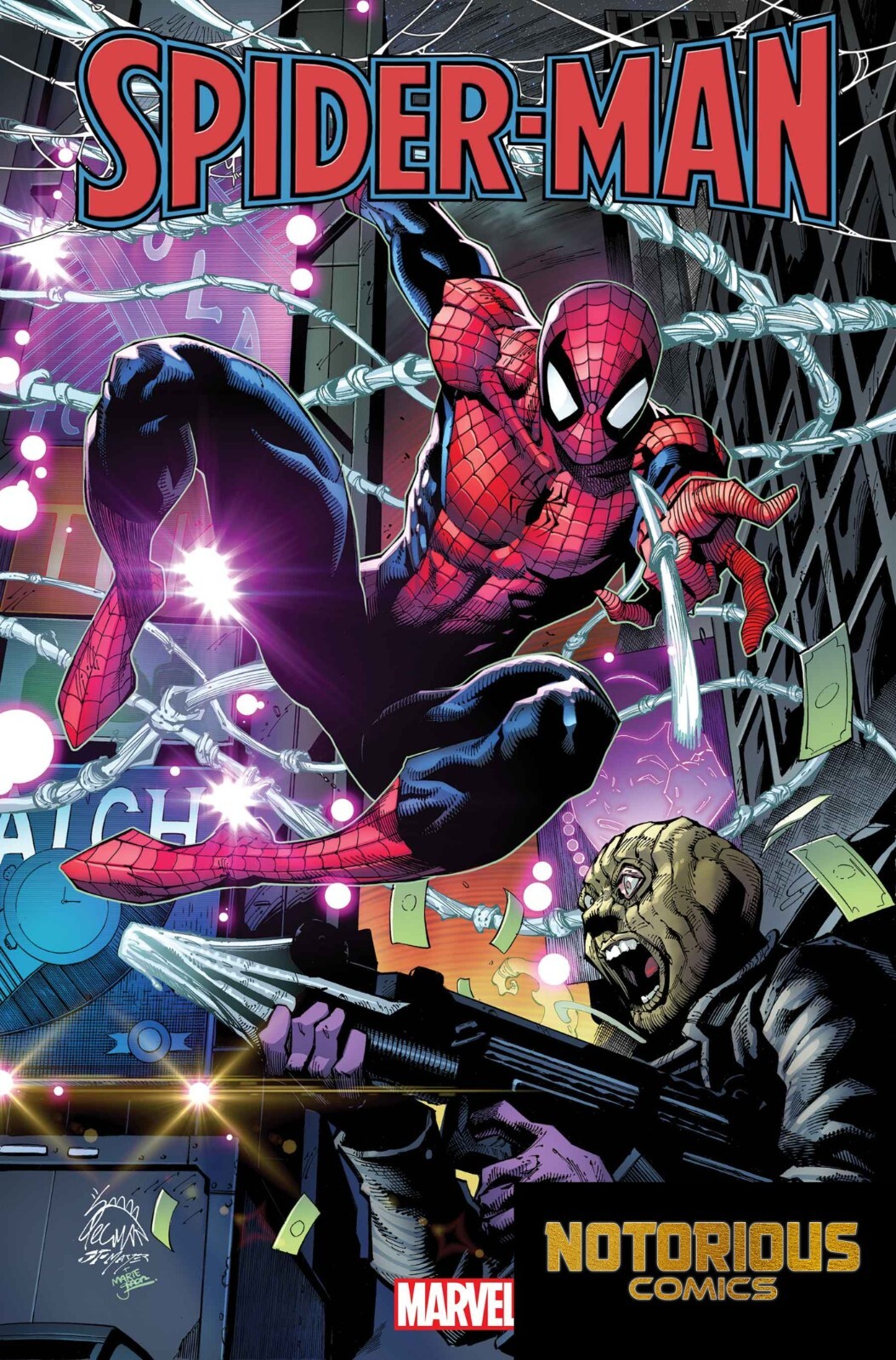 Frank Miller 1:50 Incentive Variant Cover:
Steve Ditko 1:100 Hidden Gem Incentive Variant Cover:
SPIDER-MAN#1 (LEGACY #157)
Morlun is back and he is not alone. Allied with one of the most powerful beings known to the Spider-Verse, the scariest Spider-Villain of all time is making his biggest play and it all begins in no Spider is safe, especially not the Chosen Spider himself, Peter Parker. With Peter working for Norman Osborn and using a glider…does he have it coming?
CREATIVE TEAM:
Writer: Dan Slott
Artist: Mark Bagley
Colorist: Edgar Delgado
Letterer: Joe Sabino
Designer: Jay Bowen
Editor(s):  Tom Brevoort
Assistant Editor: Martin Biro
Associate Editor: Annalise Bissa
Standard Cover Artist(s): Mark Bagley & Edgar Delgado
Variant Cover Artist(s):  Arthur Adams; Bengal; Chrissie Zullo; John Tyler;  Christopher; Felipe Massafera; Gabriele Dell'Otto; In-Hyuk Lee; Jung-Geun Yoon; Mico Suayan; Mike Mayhew; R1c0; Humberto Ramos; Sabine Rich; Ryan Stegman; Betsy Cola; Frank Miller; Steve Ditko
Format: One-Shot
Page Count/Cover Price: 44 pages/$ 4.99
"The End of the Spider-Verse" is here as Spidey's 60th Anniversary rolls on with this week's SPIDER-MAN#1, in stores and on digital platforms Wednesday, October 5, 2022, from Marvel Comics.
SNEAK PEEK: Preview of MARVEL COMICS SPIDER-MAN #1
Comments Rating
( reviews)